DDT Cheer as remembered decades later
EAT EM UP, EAT EM UP, RAW , RAW , RAW
HOTIEEEEEEEE TOTTIE
God Almighty . . . Who THE H--L ARE WE ?!
Bimm Bamm, G*D DAMN, WE ARE D D T
HEY, HEY, ........ HI , HO
WATCH US DO THAT RUMBLE GO !
e dx/dy e dx/dy
SECANT, TANGENT, COSINE, SINE,
3.14159
YEAH ENGINEERS ! !
EAT EM UP, EAT EM UP, RAW , RAW , RAW
Background:
DDT Cheer as remembered decades later
While going through old photos, brother Michael Clark (rb-33 72-78) found this cheer. He and others remembered it. Their comments from our web site are below:
Rogil on 6-22-2020 added corrections and nostaglia…
"….don't know who wrote it, but I've heard that chant several times while at FIT"
Brother Russ on 6-22-2020…
"As I remember, we inherited the "Hotty Toddy" cheer from the SAE's. Origin can be traced to Ole Miss." See here https://bleacherreport.com/articles/1609661-hotty-toddy-understanding-the-ole-miss-cheer-its-history-significance
inside the article, we see..1926 first record
Heighty! Tighty!
Gosh A Mighty!
Who in the h--l are we?
Rim! Ram! Flim! Flam!
Ole Miss, by D--m
which progressed to ….
Are You Ready?
Hell Yeah! Damn Right!
Hotty Toddy, Gosh Almighty,
Who The Hell Are We? Hey!
Flim Flam, Bim Bam
Ole Miss By Damn!
Brother Perna on 6-22-2020…
It (top page) was the chant I remember the DDT flag football team making at the end of each game.
Brother Pierce on 6-22-2020 ….
The first time I saw this cheer list (top page) was at a FIT vs FTU basketball game. I'm not sure who prepared the handout. In addition, someone made a falcon that was suspended from the ceiling over the bleachers where we sat. Unfortunately the wings looked like they belonged on an airplane rather than a bird. We had our banner in the bleachers and we were quite vocal during the game repeating our cheers. Sitting close by was a group on fans from the crew team. They had their own cheers. The most popular one was "FU Too FTU!". The following week there was a letter to the editor in the FTU school news paper excoriating the FIT fans for the foul language coming from the bleachers during the game and the author put the blame on us (probably because our banner was prominently displaced). As I recall, we did respond to the editor with our side of the story and they did publish it.
Rogil on 6-22-2020 …
"I think Crew had its own bus and they would go to games with a keg on board. I remember them passing one of the other FIT buses on the way home and doing a group moon, which the other bus had to return of course."
Brother M Clark on 6-22-2020 …
I found this picture to go with your (John Pierce) story. Thanks!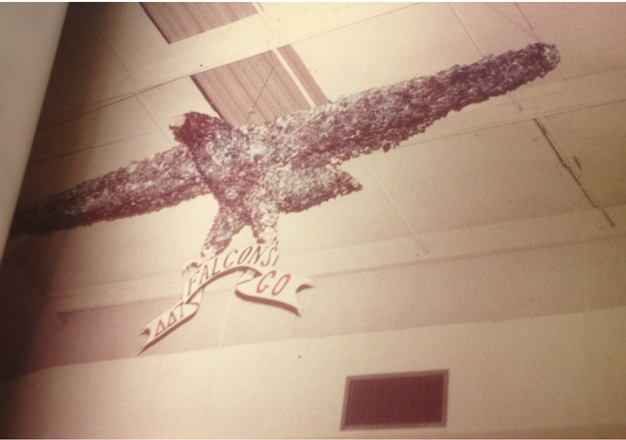 !Brother Russ on 6-22-2020 …
If I remember we liberated just about all the toilet paper on campus, except Grissom 2nd floor, to fill in the chicken wire frame.
Brother Ray on 6-26-2020 ...
I believe I headed up the sign (I had roll of white news print and mixed, I think, tempra paint) and I think TLP headed up the "Falcon"! We were severely limited by budget for the bird...what we could have done with some pvc
Brother Delgado on 6-27-2020 ...
WOW!! Memories, in the shadow of my mind!